Hoskins creates a cascade-like fugue that dominates each work liken to a figurative contour remembered. Hoskins is adding and subtracting visual data either to restructure or cripple the whole, keeping wide of being dull, until the combined impulses have angled out a mettlesome potential balance. An intuitive feel for balance point construction yields variables Piero della Francesca would envy.
 -Don Doe / SRO Gallery press release for group exhibition Unextinguished / The Episodic Landscape, January 2019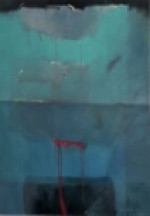 US Embassy San Jose, CR 2002
painted 2000 >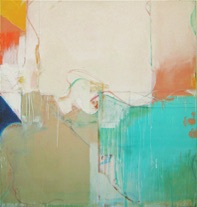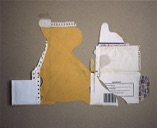 OK Harris -Re-assembled, 2002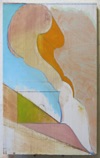 Wickiser 2018/ made in 2017 >
some of The Book of Debris, ca.1995 >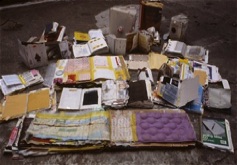 Causey Contemporary 2014/ rendered in 2012 >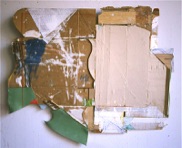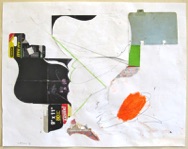 New American Paintings,'96 >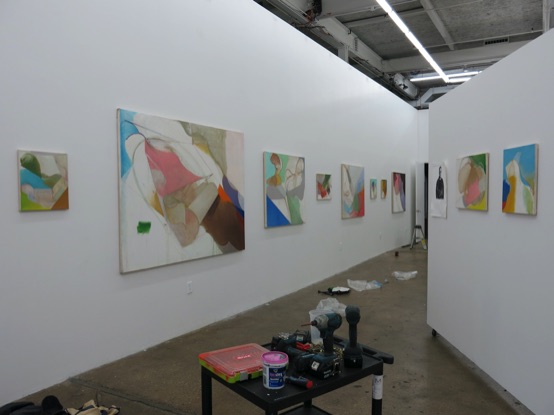 Plaxall Gallery, LIC -Jan, 2020
Moses Hoskins annotated Exhibition History CV

Moses E. Hoskins was born in 1953 in Iowa where he spent his youth and some time as an adult. He was educated in public schools and attended a few colleges* in the Midwest before attaining a BFA later on in 1981 from the University of Iowa School of Art and Art History. As a visual fine artist with roots in figurative rendering he has worked abstractly since the mid 80's. Residing in New York City since 1988, Hoskins exhibits in a variety of venues. He is a recipient of grants for support of his work from the Adolph and Esther Gottlieb Foundation and also from the Pollock-Krasner Foundation.** He was a guest at Yaddo in 2010.
*colleges attended prior to the University of Iowa '79- BFA'81 include:
Wilmington College -Wilmington, Ohio -fall,1974 /
Mount Saint Clare College -Clinton, Iowa - Associate of Arts, 1972 /
Minneapolis College of Art & Design - fall, 1971
**Pollock-Krasner Foundation 1991, 2006, 2017
Adolph & Esther Gottlieb Foundation 2006, 2010, 2013
< a satyrical self portrait,1972 graphite, acrylic & gold paint on gesso on a barn board
Note: Most work from mid 70's to mid 80's consisted of private portrait commissions. Until I was about 31, pretty much localized then in eastern Iowa, I thought of myself as a portrait painter. I had learned proper painting technique and had a natural facility for drawing and capturing a physical likeness. Most of my work consisted of privately commissioned oil-on-canvas portraits. Except for charcoal drawings at art fairs, usually subjects did not sit but were rendered from my snap shots. Even then I was aware of the potential for aesthetic shortcomings in "slavish copies" and I did try to get past that. -Midway in this expanse I found myself in school again, this time in Iowa City at the University of Iowa*. I recall meditations alone in the presence of the University's famous Pollock Mural, pondering for what it was I should be doing. After degree work was finished in '81, I intermittently painted portraits as before. It would be a few years yet, around '86, when I would begin working abstractly.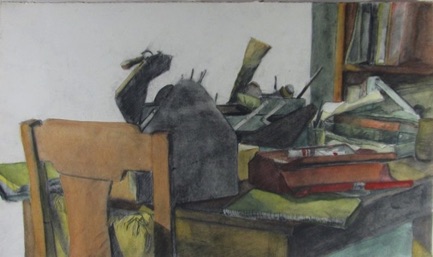 studio still life
Prentiss Street, Iowa City, 1979 >
drawing & water color on paper
portrait of Anne/ oil on canvas, 1975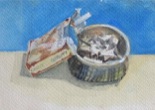 10 minute charcoal portraits local outdoor venues,1984
collage/ mixed media, the Drawing Center, 2001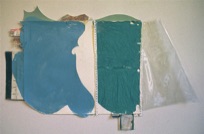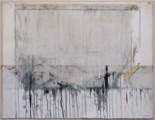 David Beitzel Gallery > 1992
oil on canvas
Des Moines Art Center >
1987
Other:
3 untitled paintings, pgs 10,11 & 15 Uni-Verse Poetry-Prints-Proofs by Visionary Humans          
                                                                              eds. Anna Ehrsam & Katherine Jackson.  NY: Battery Journal, 2020
paintings by Hoskins featured in The Acrylic Painter: Tools, Tactics, and Techniques  by James Van Patten -released in May, 2016 /Random House
MaNHaTTaN Linear, an occasional journal of poetry, prose, plays, art, and music / on-line issues 9 & 10, c. 2019/ editor Lynda Crawford