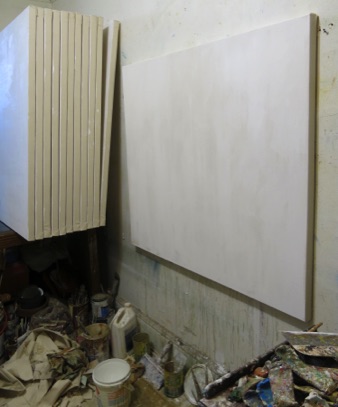 Art is much less important than life, but what a poor life without it.
Robert Motherwell
New work will be posted when it is ready to be seen.
I think the next batch of work will be on paper. I have hoarded a 10 yrd roll of 42" Rives bfk for a few years now, thinking I would use it for a special "project" at some art colony or other -because practically, just a roll of paper with an auxiliary tackle box of drawing supplies would be logistically easy to manage, not a hassle or an excessive production -but never mind; alas, evidently none of those places will have me -so why continue to waste $ on application fees just to be turned down? I get the hint. I will put together something in my constrained digs here in an outer borough, a series of 10 drawings 42x 36" each. I have cut the roll into pieces and now have them stacked flat on the floor weighted under plywood. With any luck, this will keep them from curling when I begin working on them by the end of April after I return from being away most of the month. There are few things more aggravating than paper insisting on rolling up when you're trying to draw on it.
(Related/antecedent work on paper would likely include this, this or this -&/or this... or maybe similar to past work on canvas such as this...) We shall see...